Priority Waitlist Program
Take Control of Tomorrow With Club 1904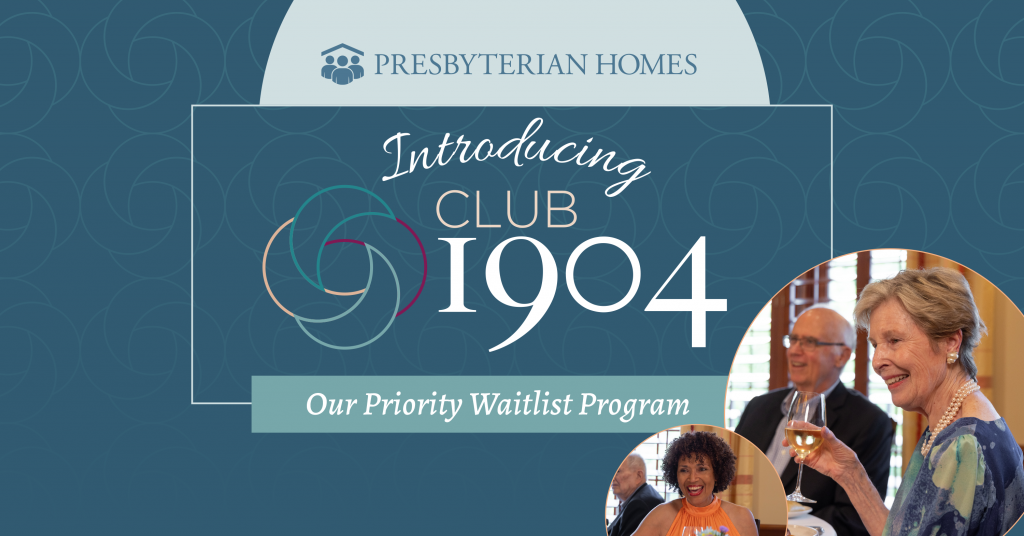 Our Priority Waitlist Program
It's time to put yourself first and make a solid plan for your future that delivers the lifestyle you want with the healthcare and financial security you deserve. That's the advantage of joining Club 1904, our Priority Waitlist Program. As a Club 1904 Member, you're in control. You choose the residence you want – down to the size, type, and square footage – and enjoy priority access to that residence when one becomes available.
Club Membership delivers:
Peace of mind for you and your family
Plenty of time to prepare and plan your move
An opportunity to become part of the community before you move in
Membership Privileges
As a Member of Club 1904, you'll enjoy exclusive club privileges that welcome you to be part of our community and lifestyle before you move in, including…
Priority access to Rehabilitation, should you need it, at one of our community locations
Complimentary Relocation Concierge Services and a real estate market analysis of your home
Access to flu and COVID-19 clinics coordinated through our Wellness Center
Special invitations to Club 1904 events and activities held by the marketing team
One complimentary meal for two each quarter in our fine dining venues of your choice, with a Community Ambassador to learn more about our community programs
Happy Hour invites and a complimentary beverage while socializing with residents
Invitations to special resident Holiday Events
Access to the fitness center and wellness classes
Access to the salon and community library
The ability to try out a resident activity on the events calendar
Spiritual Life opportunities and access to worship services
Subscription to community newsletters and magazines such as Bon Voyage and the Geneva Foundation Annual Report
Get Started!
Club 1904 is a distinguished list for those who have made the decision to move in when the residence of their choice is ready. It is not an interest list or a list of those who may be ready in a few years. With that being said, we value the first-in-line offering very seriously for our VIP members.
If you would like to learn more about our Priority Waitlist, please use the contact form on this page to ask for a personal appointment.