Senior Rehabilitation Center in Evanston, IL
Helping You Feel Better, Faster
Everyone has different recovery needs after an illness, injury, or surgery. That's why we tailor a program to fit your needs at our Senior Rehabilitation Center in Evanston.
When you need short-term rehabilitation, our team of experienced nurses, therapists and physicians will be there for you—from your initial assessment to the completion of your treatment. These experienced short-term rehabilitation specialists will be there to guide you through therapy activities, supporting and encouraging you every step of the way.
Not only will you have access to our Senior Rehabilitation Center designed to look and feel like home with sun-filled rooms that overlook our campus of mature trees and flowering gardens, you'll also have access to our on-site pharmacy; routine lab testing; X-ray; dental; ophthalmology; aqua therapy, and strength training therapy at the fitness center on campus.
Each type of care and every aspect of our Senior Rehabilitation Center work together to help you recover and get back to enjoying life that much sooner.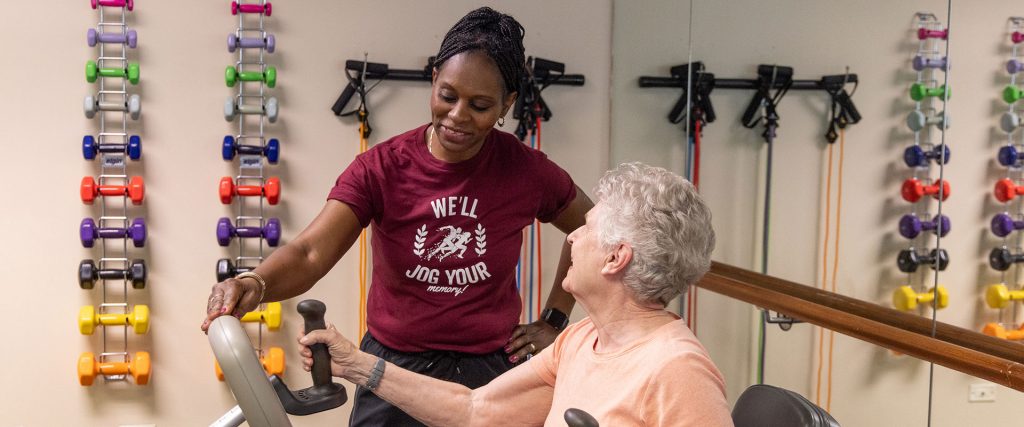 Receive Superior Care at the McGaw Care Center
The McGaw Care Center at Westminster Place is consistently among the industry leaders in terms of low hospital readmission rates and high customer satisfaction. Consistently 5-star rated, you can expect quality care and excellence.
Services and amenities include:
Three meals served daily
Housekeeping
Laundry
Cable/Wi-Fi
Physical, occupational, speech, and aqua therapies

Assistance with eating, bathing, dressing, toileting, and ambulation
Access to around-the-clock health and medical care
24-hour nursing staff
Emergency call systems
A specially designed rehabilitation program for the memory-impaired
We also offer physical, occupational, and speech therapies for older adults experiencing cognitive impairment and other forms of dementia. After serving older adults, including those with cognitive impairment, for more than 100 years, we understand the complex issues of this disease and the critical need for this program. The Westminster Place healthcare team is ready to provide new opportunities for an enhanced and enriched quality of life.
From the moment a patient arrives, our dedicated team gets to know them on a personal level, provides support and communication with family members every step of the way, and makes plan adjustments if and when they're needed.
Our goal is to support patients in:
Memory Rehab Guide
Regaining functional abilities that enable them to be safer once they return home
Identifying risks due to cognitive impairment and implementing safety strategies
Remaining physically able to live their life to the best of their ability
Recognizing their strengths and using them to be successful in what they want to do
We also help families learn how to best care for and support their loved one through dynamic and collaborative interactions.
To learn more about our Memory Rehabilitation program, check out our guide.
FAQ
How often will patients receive therapy services?
It depends on the patient's needs. At our Senior Rehabilitation Center in Evanston, each person receives a personalized care treatment plan based on their specific situation, physician orders, and therapist recommendations. After your admission, we'll provide the most appropriate services as recommended by your therapy team.
Is occupational therapy the same as physical therapy?
It's similar in that it helps restore strength and mobility. However, occupational therapy focuses on helping people improve their ability to perform daily tasks by modifying the physical environment and using adaptive techniques and equipment to increase autonomy.
What will happen when I'm ready to return to my home?
Prior to your discharge, we'll develop a plan that determines any equipment needs, outpatient therapy, or in-home services you may require.
Need a Senior Rehabilitation Center near Chicago? Fill out the contact form on this page to request a personal appointment.