Maintaining An Active Lifestyle at Westminster Place
Being active as we age has a plethora of health benefits, including supporting brain function and preserving mobility. In a recent study from Rush University Medical Center, MRI brain scans of 150 people in their eighties determined that those who were most active had no problems with mobility despite having brain damage as a natural result of aging.
With the importance of staying active in mind, Westminster Place has countless activities available for our residents, from strength conditioning to art classes. See some of what we have to offer here:
Related: Staying Active This Winter – Five Habits to Try
Fitness Classes
The fitness classes at Westminster Place are many and varied. Our ever-popular chair fitness class combines strength conditioning with perfecting your balance using chairs and resistance bands, while tai chi is the perfect fit for residents in our assisted living community.
There are also water fitness classes available, which utilize the Westminster Place indoor swimming pool. No matter your age or fitness level, there's a class that perfectly fits your lifestyle within our community.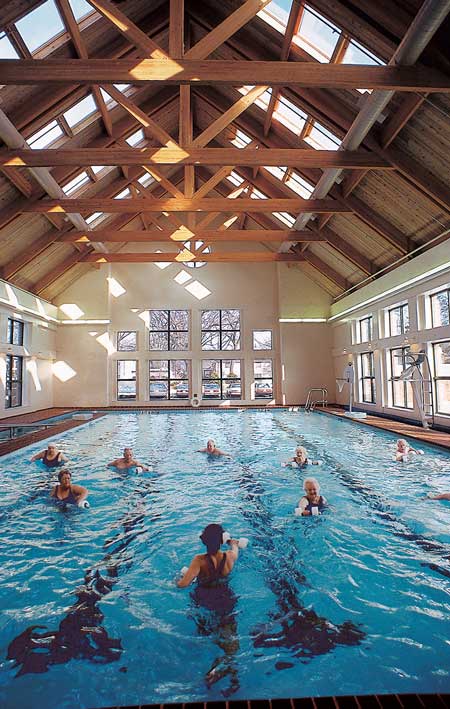 Fitness Center
The fitness center at Westminster Place serves as the hotspot of the community. There, you'll find your neighbors working out by themselves, with fellow residents, or with one of the on-site trainers. Packed with weight training machines, treadmills, stationary bikes and ellipticals, there's also more than enough space to stretch or do your own exercises without equipment. Our on-site trainers are on hand to make sure our residents stay safe participating in the exercises they love.
Related: 5 Creative, Senior-Friendly Exercises to Spice Up Your Routine
Indoor Pool & Spa
Westminster Place is home to a gorgeous indoor pool, complete with accessible entrances and a large hot tub available to community members 24/7. Swim laps, do water aerobics, or just enjoy the calming effects water has on the body- it's completely up to you. With plenty of water exercise classes, there's something for everyone to enjoy.
Walking Paths
Along with our indoor amenities, Westminster Place has fabulous walking paths throughout the community that are accessible to all residents, regardless of ability. Strolling through the campus gives you a chance to explore the sights and sounds of our neighborhood and to catch up with any neighbor you may see on the way.
Maintain Your Active Lifestyle at Westminster Place
As you can see, there are a variety of ways to stay active while enjoying the amenities of a life plan community like Westminster Place. Our engaging, creative community is renowned for its ability to help you maintain your lifestyle as you age.
Westminster Place's continuum of care allows you to age in place and get care when you need it. Discover what else makes our community so unique by scheduling a tour with us.