10 Things Perfect for Older Adults to Do in Evanston, IL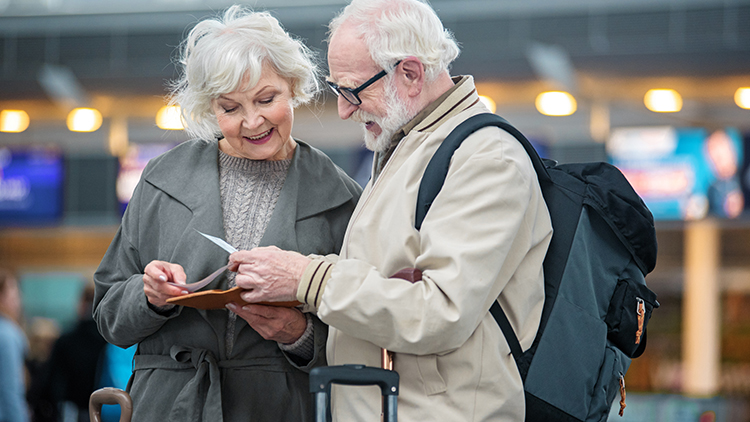 Looking for fun and unique destinations in Evanston, IL? We have you covered! Try these 10 destinations that are perfect for older adults with a sense of adventure and a healthy curiosity.
Visit these Evanston, IL, Destinations on Chicago's North Shore
1. Grosse Point Lighthouse
The Grosse Point Lighthouse is both a scenic view to take in on a nice day and a destination with a rich history you could only find in the Chicago area.
The Lake Michigan traffic that helped Chicago grow by leaps and bounds in the 1800s also led to an increased potential for deadly wrecks. On September 8, 1860, one of the deadliest wrecks near Grosse Point took place when a passenger steamer collided with a schooner carrying lumber. Around 300-400 people died, and residents of Evanston watched terror-stricken from the shore as passengers battled the elements of the lake.
The Evanston residents rushed to help survivors as they came ashore, but their aid didn't stop there. They petitioned Congress for a lighthouse on Grosse Point to warn of the shallow water areas surrounding it and one was eventually built in 1873 (the Civil War delayed the project).
Today, the grounds of the lighthouse are open to the public year-round. Tours of the lighthouse itself are available seasonally. If you'd like to plan a visit, you can view more details here.
2. Mitchell Museum of the American Indian
Another popular Evanston, IL, attraction is the Mitchell Museum of the American Indian. One of the few of its kind, it is a museum that's dedicated solely to the history, culture, and arts of the American Indian and First Nation peoples of the United States and Canada.
You can tour artifacts of tribes from the five major regions of the U.S. and Canada, learn more about Native American heritage in Illinois, and participate in tours or special events.
Seniors pay a reduced admission price of $3, which gives you access to exhibits, the library, and most programs.
_______________
Related: The Art of Remaining Curious: Lifelong Learning at Westminster Place
_______________
3. Northwestern University
Northwestern University is one of the leading private research and teaching universities in the country. Evanston and Northwestern have always enjoyed a strong bond, beyond the fact that Northwestern is located in Evanston. In fact, Evanston got its name in honor of one of the university's founders, John Evans.
Stop by the Segal Visitors Center to get information on the university before you tour its 240-acre campus so you're sure to catch all the highlights.
4. Block Museum of Art
While you're on the campus, take some extra time to visit the art museum. Located on the campus of Northwestern University, the Block Museum of Art is a free, public art museum.
The rotating exhibitions span time periods and cultures, creating a unique experience for museum visitors as they explore the halls. Art and history unite to spark your creativity and ignite your imagination.
In addition to exhibits, you can also enjoy lectures, symposia, and workshops, as well as screenings of classic and contemporary films at this Evanston art museum. Be sure to view their events page when planning your visit so you don't miss a thing.
_______________
Related: Famous Artists Who Did Their Best Work after 60
_______________
5. Bienen School of Music
Another can't-miss Northwestern campus destination is the Bienen School of Music. It's one of the top music schools in the United States and its new, stunning building was completed in 2015.
View the next generation of great musicians by attending a concert, recital, or one of the many exciting series they offer. You can search for upcoming events here.
6. Halim Time & Glass Museum
A world-class museum brought to life by one family's dream, the Halim Time & Glass Museum houses a fascinating collection of glass and clocks.
The museum holds over 100 timepieces and over 70 stained glass pieces of art, all from the personal collection of Cameel Halim, who opened the museum to fulfill a long-time dream.
General admission for seniors is $14 and the museum is open every day of the week besides Monday. Learn more and plan your visit here.
7. The American Toby Jug Museum
This niche interest museum makes for a fun, memorable afternoon. The American Toby Jug Museum in Evanston, IL, houses over 8,000 Toby and Character jugs that line the well-lit display cases.
If you're wondering what exactly a Toby Jug is, it's a jug in the shape of a seated person, typically with a recognizable face. The history behind the name is murky, but no doubt you'll have a better idea of the mugs and their history after viewing one of the largest collections of its kind.
_______________
Related: Lifelong Learning Opportunities for Chicago Area Seniors
_______________
8. Evanston History Center
To get an extra dose of times past in Evanston, visit the Evanston History Center, located in the Charles Gates Dawes House.
Docent-led tours take place at 1 pm, 2 pm, and 3 pm Thursday through Sunday. There's no need to make a reservation for the tour, which will allow you to see all of the first floor and part of the second floor.
In addition to the house itself, you'll be able to see exhibits on the history of Evanston. The story of this remarkable area is told through a mix of artifacts and archival materials.
9. Baha'i House of Worship
Although this destination has a Wilmette address, it's right on the Evanston border on the North Shore. The Baha'i House of Worship is a truly unique destination where people of all faiths are welcome to tour the grounds and the house of worship.
10. Evanston Restaurants
There are restaurants aplenty in Evanston to please all diners. From classic American fare to Italian food to pan-Asian dining, you're sure to find something delicious during your time out and about in Evanston.
Explore a list of some of the best Evanston, IL, restaurants here.
Tour Westminster Place, a Retirement Community in Evanston, IL
There's one more Evanston destination to add to your list. If you're considering a move to a retirement living community in the future, why not schedule a tour of Westminster Place while you're in the area?
Westminster Place is a not-for-profit, faith-based community full of creative, vibrant people who spend each day exactly as they please in beautiful retirement homes in Evanston, IL.
Anyone who would like to visit the community for a tour is welcome. Simply let us know you're interested in visiting by scheduling a tour online.